FERRARI DAYTONA 365 / GTS 4

My search down a long and winding road

to find a replica of the most beautiful car ever manufactured.

ferrari, daytona, 365, gts, miami vice, spyder

It all started in late 2002.  After collecting data and dreaming about a Daytona Spyder for over 3 decades, it was time to search for a car to purchase.  A 'real'  365/GTS4 was out of the question, so I was searching for a alternative.  I eventually purchased a hybrid-replica in late summer 2003 after checking out 34 different cars.  After seeing so many, I decided to place them into one of four catagories: replica, hybrid, kit, and bizarre. 

* replica = a nicely finished car, typically featuring Jaguar V12 engine, transmission and suspension, fiberglass or metal body, and a Ferrari-like interior featuring seats, door panels and a dashboard that closely resemble those on a real Daytona.  Windshield features side cozy-wings.

* hybrid = a nicely finished car, typically featuring a Corvette chassis, engine, transmission and suspension, fiberglass body, and a Ferrari-like interior featuring seats, door panels and a dashboard that closely resemble those on a real Daytona.  Windshield may feature side cozy-wings.

* kit = a finished car, typically featuring a Corvette chassis, engine, transmission and suspension, fiberglass body, a Corvette interior or an interior featuring seats, door panels and a dashboard that echo a Ferrari-theme, but really don't look like those on a real Daytona.  Windshield from a C3 or C4 Corvette.

* bizarre = cars I've found that are being sold as a 'Daytona replica', but really don't look like a Daytona or have unique or strange attributes.  Miata-based cars, Mustang-based cars, and cars slapped together in the name of 'quick profit' (because of the Miami Vice TV show) would fit in this catagory.             

Here are pictures of most of the 30+ Daytona-like cars that I found during my search.  You can view the car I purchased by clicking on the link at the bottom of this page.   WANT TO BUY A DAYTONA? - go to the bottom of this page.*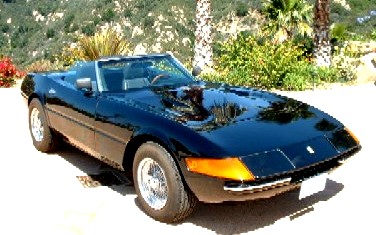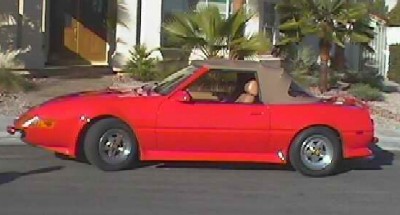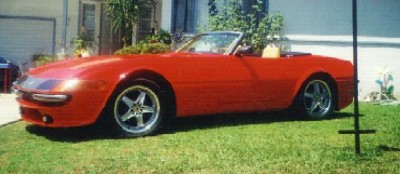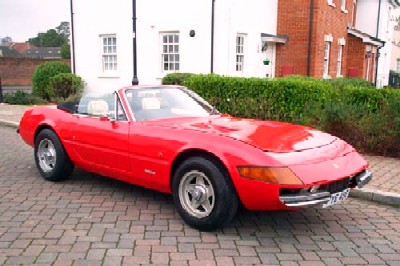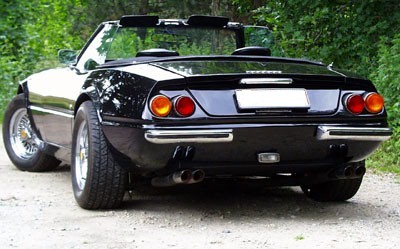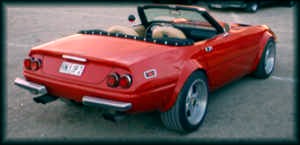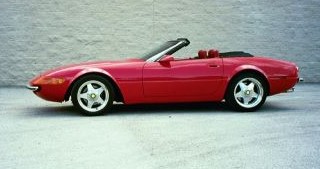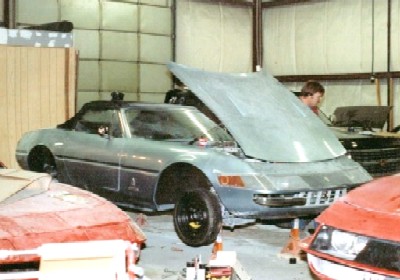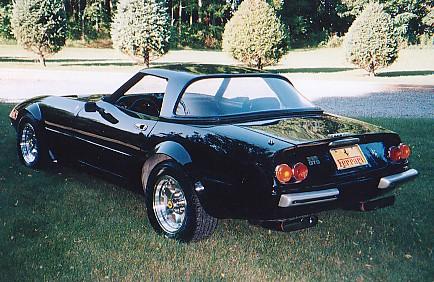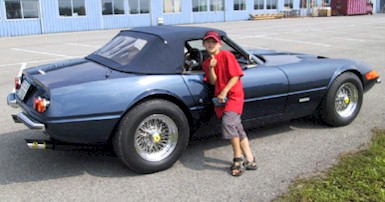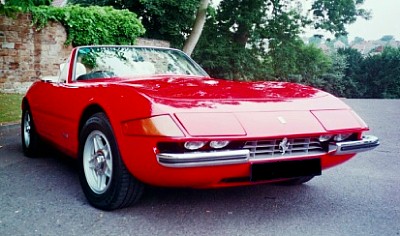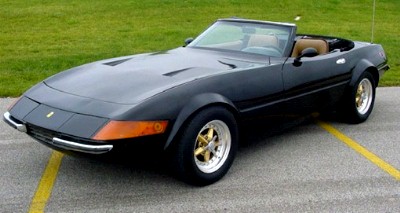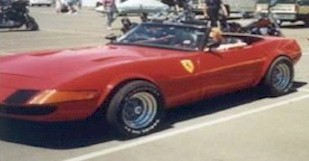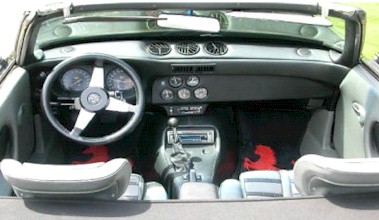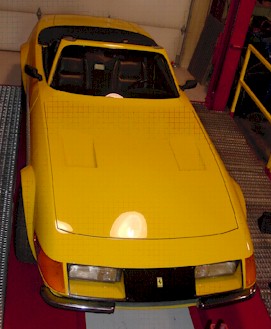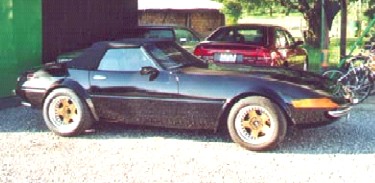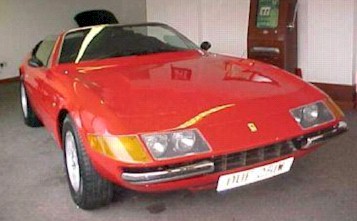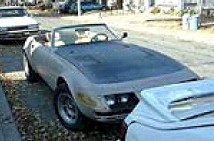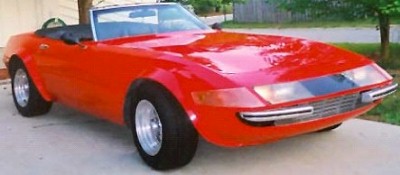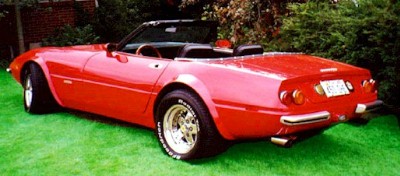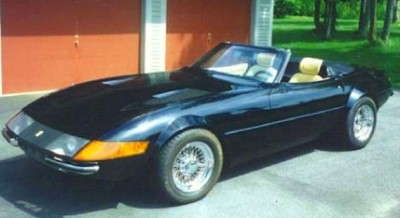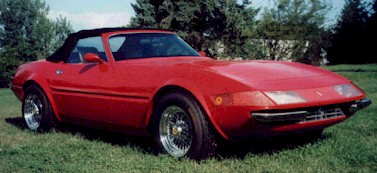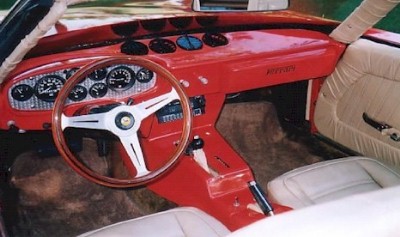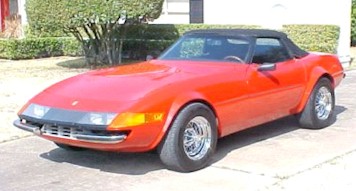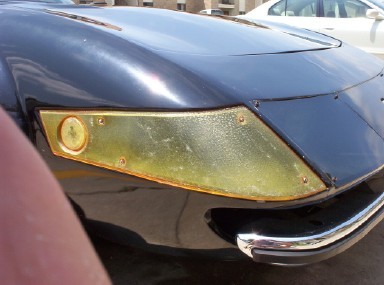 Strange but true...

Here are some interesting finds:

Removable hardtop?

If that isn't different enough, how about those rear bumper-ettes?  Do 2 rights make a left?  Anyone got an extra left-side bumper out there?  If so, call Nat @ Lance Motors.

Another past Lance vehicle.  Interesting fabric installation on the A-pillars, but you hardly notice after seeing this brightly painted fiberglass dash and console.

Yellow?  Looks a bit different, doesn't it?  (just don't judge the owner for this replica lens until you have to pay the price for replacing an authentic Cavello unit!) 

                        Ah, the rare

                        Day-tang. 

                        Or do you prefer

                        Mus-tona?

                        Take the family,  

                        it has a rear seat!

Just paint me, please!

I hope that the front wheel is     attached and not about to fall

off, but even more I hope you

don't hit a bump and slice

the middle of the tire with that giant fender flare!

Miata-based Miami Roadster looks cool, but the squished scale is cartoon-like.

Datsun (Nissan) 280 Z - based 365 GTB is an interesting car.  This inline 6 powered car looks pleasant, though is a bit small when compared to an authentic GTB.  It is obvious the designers of the 240 / 260 / 280 Z cars borrowed a few styling cues from the Daytona.

C4 - based; Notice the very 'skinny' profile up front and too much fall-off in the back.  Windshield rake is is better than a C3, but window is still too flat to be confused for a real Daytona, even without the cozy-wing side windows.  (C3 = 3rd generation Corvette; C4 = 4th generation Corvette-based)

Sister of my car being finished by builder Mike Hudson.  This was the first of the 8 Daytona's Mike made. Notice Euro-spec white & amber turn signal lens.  Mike's cars feature a TR7 windshield with side cozy-wing windows for a more authentic look.

Awesome Autokraft Arrow.  This is the best of the replica Daytonas.  Make sure to visit the 'Daytona Replica Club' link at the bottom of this page to see more.

McBurnie fender flares are W-I-D-E!

But California Coach fender flares are  even  W-I-D-E-R!!

McBurnie Daytona featuring Alfa Romeo door handles, tall mirrors and Corvette interior.

This lovely Robinhood Spyder in England featured a metal body and a V-8 engine.  It was up for auction in June 2003

Grey interior features decent replica seats with a Daytona-like dash cover,  stock 'Vette gauges, console and steering wheel.

This car was interesting because of the red Plexiglass panel between the head lights and the red overspray on the tire!  Don't touch the paint while taking it for a test drive!

California Coach is McBurnie-based                 w/ rear side marker lights placed a bit high and a small trunk space is full of the gas tank (and it gets fuel while the trunk is open, not through the typical round flap on the top facing of the left quarter panel).

Here's another black California Coach Daytona with gold-painted wheels and an Alfa door handle

C3 'vette donor with Plexiglass nose, square headlights and no yellow emblem.

What do you do with such wide fender flares?  Stuff 'em full of super wide tires!

C4-based w/ 1-piece front nose flips forward.  Ugly wood 'vette dash hurts the interior view. 

Hard to miss this yellow 365.  Car features  a stock 'vette interior and square headlights behind Plexiglass panels.  This view shows how McBurnie and many 'vette-based kits used extended fender flares and a wide flat top door sill to stretch the the fiberglass body on the Coke bottle-shaped Corvette in a manner that gave the car the scale and dimensional feel of an authentic Daytona at a glance.  (Sold by dealer in 2003 who was askng $18.9K.  Listed on eBay 2/2005)

Another English gem.  This LR Roadster  features panels over each set of headlights instead of the standard Plexiglass covering across the entire nose. 

If I remember right, this one features cloth seats.  Rear side marker location was better placed than that found typical on a California Custom Daytona.

McBurnie with nice replica seats.  Notice lack of outside mirror(s)

California Coach car with typical wide fender flares, super fat tires and in this case, a Ferrari nose emblem placed high above Plexiglass nose panel.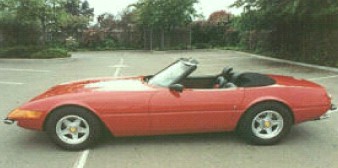 < < < Rowley Corvette makes this nice 365 GTS (They call it the Rowley GTC) featuring authentic looking fender flares.  It is easy to tell is is 'not real' by the 'vette windshield, the lack of side cozy-wings and the wrong mirrors, but these cars are beautiful and still available.  They also carry lots of parts that fit many makes of these replicas. See the links below to learn more.  

LINKS:

My car (pictures of the car I found and purchased)
Daytona Info (real cars, history of replicas, movies, tv and more)
This page was last updated on: February 26, 2012
Cool kid & car in CH (that's Switzerland) featuring realistic-looking fender openings and a nice fabric top.

Interesting front air dam and large wheel openings make this Daytona different &  visually impacting.

<  <  < This is my car in the foreground!

California Coach Daytona with interesting wheels and Alfa door handles.  Lack of chrome around windshield adds to the gangster look.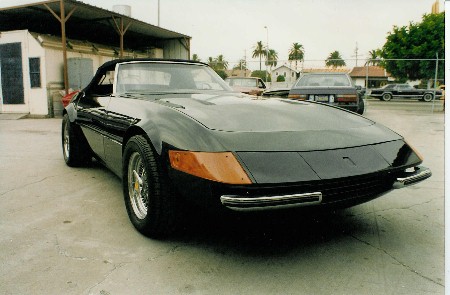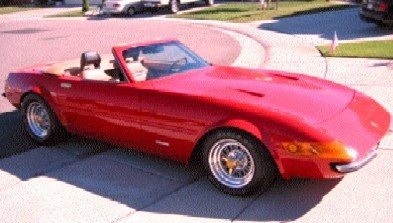 McBurnie, beautifully finished in triple black just before receiving yellow emblem on nose.  The nicest McB car that I saw and an owner that was passionate about the Daytona and making sure his was especially well kept.  I loved the car, but was just afraid of melting in an all-black vehicle!                   

This car was subpoenad by Ferrari of North America in the case that shut down McBurnie's Daytona production.  Interesting headrests on seats featuring a Ferrari-theme, but far from authentic looking.   Nicely finished example but also missing outside mirror(s).  Gold trim accents are unique. 


Want to hear my car?  Click to hear a WAV file.

** Another WAV at the bottom of this page.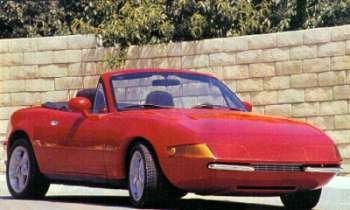 WAV file of my car revving up to 5,000 RPM

Want to buy a Daytona kit or replica?

You should visit the sites listed below every week.

I also suggest you decide 'what you really want' before starting your search or the excitement of the chase may result in a not so good decision.

(don't 'settle' for what you really don't want)

Ask yourself:

- What color do I really want?

- Am I buying this car to cruise or win car shows?

('kits' don't typically win shows, so buy it to enjoy the drive)


- Do I want a Miami Vice-looking car or one that looks like a 'real' Daytona?

(this will determine the price range needed to buy a car)

- Is a 'stock' 'vette interior acceptable, or do I want either a Ferrari-like theme or

  a actual replica interior (you'll easily spend $15K for a replica interior, so don't

  think you can get one 'cheap' later ... find one already done that you like).

- Can I afford $700 to replace the 2 front turn signal lenses?  

  ('they are expensive, as are most Ferrari parts ... 'IF' you can even find them)

- Am I buying this car as an investment or for fun? 

  (you better answer 'fun' or you will be sorry later)

- Do I want Ferrari owners to accept me?  (they won't)

- Am I trying to 'look like I have $$$'?  (for whatever reason is 'true', people often

  think that 'real' Daytona's are Miami Vice kits, so don't expect a lot of glory)

The best links to find a car to buy:

Still got questions?  Click on my email link above and send me a note.